The Law Firm
The Neapolitan-origin Law Firm has been established a few hundred years ago. Its partners and associates have held positions of responsibility, working as lawyers in Italy and as magistrates in Europe.
The partners have been members of the Council of the Law Society; they have been hired, among others, by Presidents of the Italian Republic and by the Constitutional Court. Well know Academic Professors also sought Giordano and Partners' professional consult.
The Law Firm partners founded many newspapers and periodicals focused on the Law, besides holding the most prominent positions in the Juidiciary System, thus writing an important chapter in the Italian Juridic System.
Areas of operations
The Partners operate directly in these areas:
Intellectual property and patent experts: in particular research, application and filing of patents and trademarks

Litigation and arbitration
Corporate governance
D. Lgs. n. 231/2001
Administrative Law
Banking, Financial and Insurance Law
Commercial and Corporate Law
Real Estate and Property Law

Labor law in health matters

Financial Markets Law
Corporate Criminal Law
Merger and Acquisition/ Private Equity
Generations Handovers
Restructuring operations and insolvency/bankruptcy proceedings
Sports Law (contracts and mediations)
Family Law (new procedure regarding the de facto couples, civil unions and mixed marriages, Egalitarian Marriage)
Canon Law, ecclesiastical Law and vatican Law
Art lending
Art funds

Establishment of foundations, trusts, archives and funds for artworks 

Voluntary disclosure
Due diligence
Art bonus
Authenticity and paternity of artworks
Ownership and origin
Purchase and sale of artworks (auction sales, intermediary and private negotiation)

Donation, inheritance, generations handover of a single artwork or whole collections. 

Export and import of artworks
Taxation and investment management
Tax planning
Legal protection against money laundering, fraud, counterfeiting and plagiarism
Publications
10 Apr 2020
Letter to clients
Giordano&Partners:
Daer All, face an emergencies is never an easy task. Face the Covid-19 emergency is, and will be, a particularly hard and unprecedented challenge fo all of us, not only from a a health prospective, but also from an economic and entrepreneurial point of view. Professional advisers in all disciplines will be required to adapt […]
Read more
30 May 2019
Visas
Giordano&Partners:
Millions of foreigners travel to the United States every year. Some are tourists visiting family and friends; others are traveling for professional commitments; attending conferences, conventions, and business meetings. Others are students who attend school or university throughout the U.S.. Foreign professionals stay in the U.S. for short periods of time in the context of […]
Read more
All publications
Board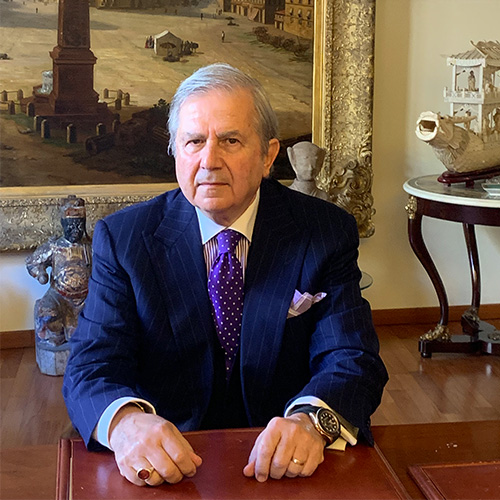 Avvocato
Pasquale Giordano
Born in 1948, he graduated from Law School at University Federico II in Naples; he was appointed magistrate in Rome from 1983 until 1985; his areas of expertise vary in many different law areas such as international agreements and contracts, Artwork Trading Law and Administrative Law (in particular lawsuits regarding renewals of motorway concessions)  Mr. Giordano is also advisor of several important national and international medical facilities and he is specialized in arbitrations. He has also been appointed advisor for the acquisition of banking licences. Nowadays his focus is on internationalising the development sector and on coordinating corporate and banking structures in Europe, in Africa and in the Middle East.
Avvocato
Fabio Giordano
Born in 1978, he has achieved a Master in Merger and Acquisition at Kensington College in London. He worked for several well-known international Law Firms as well as in the Legal Department of Banca Nazionale del Lavoro's headquarters in London. The above mentioned professional experiences allowed him to develop a great expertise as an advisor in corporate and banking restructuring. Great is also his knowledge in management of national and international arbitrations. He has also been appointed as technical president in an italian Serie A Football Club. Nowadays his primary focus is on internationalising the financial sector and in the merger and acquisition area of companies linked to the energy sector in Europe in Africa and in Central America.
Avvocato
Gianluca Arturo Giordano
Born in 1972, he graduated from Law School at La Sapienza University in Rome. He also got a second degree in Philosophy and Theology from the Pontifical Gregorian University in Rome and a third degree in Religious Sciences at the Pontifical Lateran University in Rome. He has broaden his knowledge of Philosophy of Law and Canonican Law. He dealt with the procedures regarding ratified and consummated marriages for the Sacred Roman Rota. Nowadays at the Law Firm he focuses on civil matters, especially on those regarding  Family Law and relationships between technologies and new regulations.
Avvocato
Paolo Pucciarmati
Born in 1976, he graduated from La Sapienza University in Rome; he has achieved a Master in real estate asset management, mediation in civil disputes and juridical psychology. He has worked with many prestigious Notary Firms and Law Firms in Rome where he developed pratical and theorical skills in Civil Law, Commercial Law, Corporate Law, Industrial Law and Private International Law. He also deepened his knowledge of German Law, and in particular of the BGB (the German Civil Code). He is an expert of the new regulations regarding business crisis and insolvency.
Avvocato
Pietro Martino
Pietro Martino born 1971, lawyer, since 2010 authorized to practice before the higher courts.